Hello and Welcome back hope you all had a fabulous Christmas & Happy New Year.
AuntySue your host for this weeks challenge here!
Well we have some great challenges and sponsors for 2020 so hope you will be joining us each week.
As we announced the winners on the 20th December let get straight to our challenge.
As always our challenge is ANYTHING GOES
but for fun we have a weekly twist and this week it is
ANIMALS
our fabulous generous sponsor for this challenge is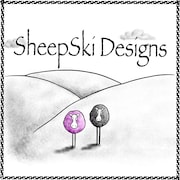 Challenge blog
https://sheepski-designs-challenges.blogspot.com/
Prize 3 images from the shop
The team was kindly given some of their fabulous images to make their cards with. So with that let me show you them for your inspirations
HOST- AuntySue
Billie
Chris
Christine
Dianne
on leave
Ginny
Jac
Janette
Nick
Zora
Wow they didnt disappoint did they.