Hello & Welcome Crafty Catz fans!
Hope you all had a Lovely Christmas & New Year
Billie A

your host for this weeks challenge.
Are you all ready for a new challenge!
I do hope so we had some fabulous entries last time. Which has made it a difficult job for AuntySue, last times host to pick her top three but she has managed.
So before we get onto this weeks challenge lets see who Mr Random picked as the winner of our prize from
Bugaboo Digi Stamps
s.i.bennett@hotmail.co.uk
You have 2 weeks to claim your prize
Now onto our Top Three picked by AuntySue
after seeing this card I went and bought the stamp
Congratulations they are fabulous cards.
Please take your Top Three badge for your blog
Back to this weeks challenge
ANYTHING GOES with optional twist
We are kindly sponsored this week by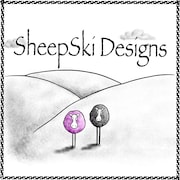 Challenge blog
https://sheepski-designs-challenges.blogspot.com/
Prize 3 images from the shop
So lets see what the team has made with these fabulous images for your inspiration.
Now it is your turn we cant wait to see what your making.
Just link up your post in Mr Linky below
now remember we do limit entries to only 3 per person just to make it fair to all.
Because blog land is not thriving like it used to we thought when you came to add your card or creation to our challenge you could check out the entry in front of you and leave a comment for them....leave some love so to speak and who knows they might come back and say hi too!!
We will do our very best to comment on every entry but as some members do not have access to Splitcoast Stampers, Pinterest, Word Press we may not be able to leave a comment, however your entry will be viewed and will be counted.
By entering these challenges you are giving your consent to your blog links being visible along with your name in the entries.
Remember to leave some love !!
Rules are in the sidebar, there's only a few ....